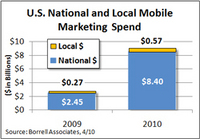 The report, "The 2010 U.S. Local Mobile Advertising & Promotions Forecast," identifies the initial allure for local businesses as being mobile couponing.
"Coupons are the category to watch -- at least initially," said Gordon Borrell, CEO of Borrell Associates. "We view advertisers' growing love affair with coupons as a major key to the emergence of mobile marketing. The fastest-growing and most obvious application is also the easiest to implement: text-based coupons." Borrell said redemption rates for mobile coupons are 10x that of mail- or newspaper-distributed coupons. "There's something dramatic going on, and heavy implications for direct mail, yellow pages, newspapers and anyone else in the coupon-distribution business."
The report details how mobile marketing is set to reach dominant penetration levels faster than any medium before it, thanks to an existing installed base of cell phones (80 percent of the population), rapidly being exchanged for smart phones (currently about 31 percent of the population and growing). By contrast, when the Internet was born as a commercial medium in the mid-1990s, only 8 percent of households had a modem-enabled computer.
The report says last mobile marketing reached $2.7 billion last year and is expected to grow 84 percent annually, hitting $57 billion by 2014. A subcategory – mobile advertising – is already in the billions. Local mobile advertising, according to the report, hit $285 million in 2009 and is expected to double this year to $586 million, then spike upward to $4.7 billion by 2014.
About Borrell Associates
Borrell Associates Inc. is the leading provider of local advertising research and analysis, market-specific ad-spending data, consulting and sales training. The Virginia-based company provides detailed market advertising reports for hundreds of local interactive and traditional media companies and customized reports for any U.S., Canadian or U.K. market. It also publishes regular analysis on local online and mobile ad-spending trends. For information visit http://www.borrellassociates.com.